Humanitarian Trips
Both locally and globally, you can become a volunteer to go on humanitarian service missions to visit children in orphanages and hospitals. Volunteers play and engage with the kids of all ages, providing companionship, support and love.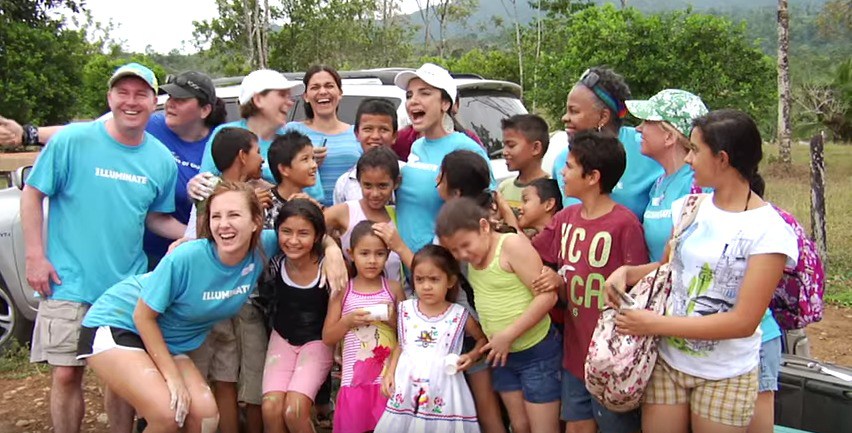 Whispers From Children's Hearts (WFCH) Foundation is a 501(c)(3) nonprofit organization that is dedicated to recognizing and supporting charities that benefit the needs of children.
During these missions, trained volunteers facilitate age-appropriate, therapeutic activities adapted from Lisa Haisha's unique SoulBlazing™ coaching program.
We dress up and play games, do magic tricks and perform for the kids. This type of interactive play addresses the many multi-dimensional attributes of a child's emotional health and physical wellness, as well as their mind, body and spirit connection.
Visits To Local Children's Hospitals
In partnership with the Whispers From Children's Hearts Foundation, we offer local trips to hospitals to help cheer up children with life threatening diseases and debilitating illnesses. We organize volunteers that are both kids and adults to visit local children's hospitals as SoulBlazing™ Caped Crusaders.
We aim to brighten their day and then give them gifts, including their own fleece superhero-hooded capes. It's a fun and rewarding way to give back and make a difference. Watch this fun music video we made about these inspiring experiences.
International Volunteer Voyages
Our ever-expanding team of volunteers travel the world to orphanages and hospitals offering soul care and many forms of support. Our global volunteers assist in building schools and homes worldwide. In addition, our team brings much needed supplies, love and unwavering support to children who are sick or suffering from life-threatening diseases by playing games that are imaginative and transformative.
We also join forces with other nonprofits that are doing similar work. Watch this quick video of one of our humanitarian trips to Costa Rica that we organized through the wonderful people at Women of Global Change.
International Mission Trips to Orphanages
When Lisa and her husband Lee, went to Cambodia to interview the founder of a safe house for abandoned and mistreated kids, this was the first time Lee had taken a trip like this. After returning, and watching the footage they shot at the orphanage, the idea came to both of them: they wanted to help as many kids as possible around the world, and share that powerful experience with others.
Together, the couple formed The Whispers From Children's Hearts Foundation with the aim of introducing more people to the needs of worldwide orphanages and to spread the word on how to get involved.
By fostering cross-cultural awareness marked by compassion, peace and love, The Whispers From Children's Hearts Foundation is building bridges of understanding and awareness across the world.
Since then, Lisa and Lee have been offering international mission trips to orphanages in the Middle East, Asia and Africa. Every person that has joined these travel missions has benefitted from the unforgettable and life-changing experiences they witnessed with The Whispers From Children's Hearts Foundation.
Finding Hope & Wonder: Deaf and Mute Orphans of Peru
Lisa travels the world to learn about different cultures through their children. The orphanage in Peru was a more difficult and unique experience because the children were deaf and mute. Through sign language and quality time she earns their trust.
Giving, Giving, Giving: The SOS Orphanage in Cairo
Lisa Haisha visits the SOS Orphanage in Cairo where the financial and social situation of those coming from rural areas has become increasingly difficult and precarious, and the number of orphaned and abandoned children has continued to increase.
Lisa Haisha Interviews Founder of Secret Society, Damanhur
Lisa Haisha traveled to the spiritual center of Damanhur to meet the inhabitants and investigate the world-famous temples. She speaks with its founder, Falco, about finding one's passion and leaving a legacy.
The Pharaohs Left Pyramids. What Will Your Legacy Be?
Lisa Haisha gains inspiration from the Pyramids that took 20-30 years to build by hand. Imagine. If we didn't have so much to do and so many errands to run, in our day to day life, what could we build? What would our legend be?
The Raw Truth of Iraq: Lisa Haisha Returns to Her Roots
Lisa Haisha, Hollywood Therapist, Spiritual Correspondent and Humanitarian takes you into the hearts and souls of people in Iraq – how they live and think.