11/14/2014 Sofitel Los Angeles at Beverly Hills
Inaugural Legacy Charity Gala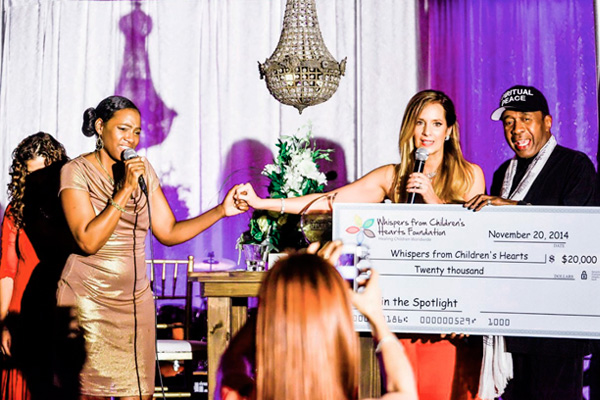 After a year of heightened success, Lisa Haisha's first season of the Legacy Series featured an array of inspiring people including: actors Sally Kirkland, Lucy Lawless, Scott Baio and Jon Cryer, as well as internationally-acclaimed speakers, Paul Ryan and Marianne Williamson. Lisa's writing and expertise had also been featured on the Huffington Post and other reputable media outlets, so it was only natural for her to create a star-studded charity gala to celebrate its success.
Put on by Lisa's nonprofit foundation, Whispers From Children's Hearts, the exciting charity event gala welcomed a wonderful mix of Legacy Leaders, thought provokers, wisdom keepers and celebrities to the beautiful Sofitel Los Angeles at Beverly Hills for an evening of donation and inspiration.
The First Annual Legacy Charity Gala Award Recipient
The apex of the evening was announcing the lucky nonprofit that would receive a check for $20,000.
This prestigious award went to Kids in the Spotlight, an amazing organization founded by Tige Charity that trains youth in foster care programs and other underserved youth to create, write, cast and star in their own short films.
Watch this video to learn more about Kids in the Spotlight.
AfterBuzz TV 2014 Legacy Event Coverage
Our friends at AfterBuzz TV were on-hand to capture the amazing energy of the 1st Annual Legacy Charity Gala with some of our VIPs on the red carpet. In these videos, AfterBuzz TV correspondents, Stacy Ike and Kevin John interview the host and founder of the Legacy Series, Lisa Haisha and fellow Legacy Series guests, Bart Baggett and Kellee McQuinn.